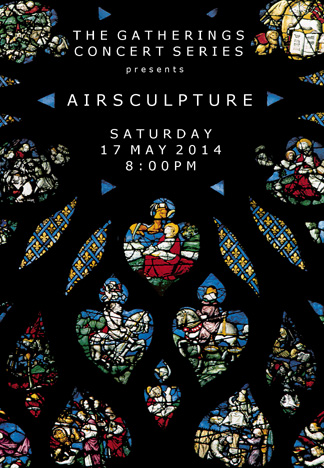 AIRSCULPTURE
May 17

On Saturday, May 17, at 8:00 pm, The Gatherings Concert Series will present AirSculpture from the U.K.

AirSculpture: As the shadow of the "Berlin-School" of electronic music lengthens with time, AirSculpture are among many of today's electronic musicians moving from out of its shadow to experience the brightness of their own creativity and voice. They bring with them music which began as a reaction to this venerable mode of sonic expression and which advances beyond the expectations of both predecessor and contemporary alike.

AirSculpture formed in Britain during the early 1990s when the trio of Adrian Beasley, John Christian and Peter Ruczynski began pooling their talents and resources within the framework of live in-the-studio jam sessions. Out of these improvisational experiments came their first full-length release for the Neu Harmony label in 1995: Impossible Geometries. This year also saw AirSculpture's concert debut which was hosted at the EMMA Festival in Sheffield, England. According to the group, "with the fun, fear and feedback of a live audience we pull out our best stuff". This attitude has lead to the release of several solid albums of live spacemusic and acclaimed concert performances at prominent music festivals both at home in England and in Europe and The States.

AirSculpture describes their work as improvised sequencer music; arising while in the act of playing. Performances are less "planned" than they are "prepared" for and each concert is distinctly unique. While their music stays true to the initiatives and parameters of the genre, it is constantly attempting to understand spacemusic's full potential. Their pieces are usually lengthy and drifting dreamscapes marked by sprawling cycles of layered sequencer patterns. Harmony and melody add fullness and focus but the main attributes of this music remains texture and mood.

AirSculpture precede this concert with a show the day before at the Asheville electro-music festival in Asheville, NC.