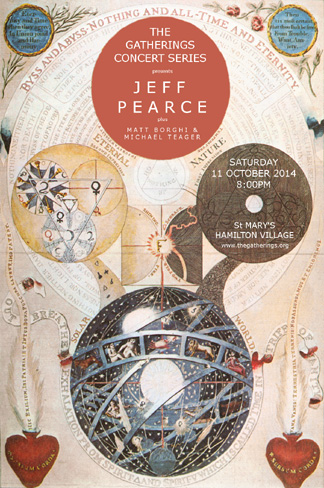 JEFF PEARCE plus BORGHI & TEAGER
OCTOBER 11

On Saturday, October 11, at 8:00 pm, The Gatherings Concert Series will present Jeff Pearce plus Matt Borghi and Michael Teager.

Jeff Pearce: Jeff creates smooth and beautiful sound textures using (and mis-using) electric guitars. Producing tones that rarely betray their origin notes are processed, delayed, distorted and looped to create complex harmonies and timbres. Pearce's music is compelling and moody, traversing the Space, Ambient, Experimental and New Age genres. Whether playing intimate acoustic music or crafting deep-space drifts, Jeff Pearce composes a work which combines melody and mystery in a unique way.

Matt Borghi and Michael Teager: Matt and Michael are an Ambient duo who have received airplay on Galactic Travels many times. They will provide the opening set.