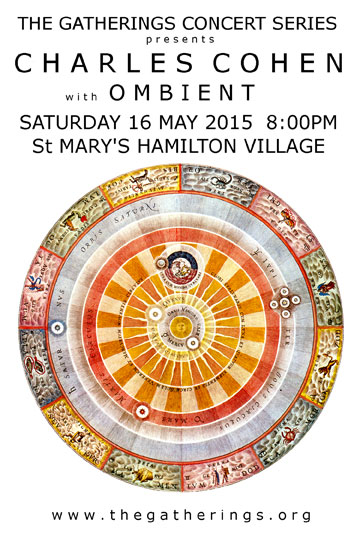 CHARLES COHEN with OMBIENT
Saturday, May 16, 2015.

On Saturday, May 16, at 8:00 pm, The Gatherings Concert Series will present Charles Cohen with Ombient.

Charles Cohen: has been amazing and challenging Electronic Music audiences for nearly 40 years. Characterized as a "special and singular musician" with a highly developed and refined voice, Cohen's music is entirely improvisational and produced primarily with a vintage Buchla Music Easel synthesizer - a rare analog instrument designed in the early 1970s. Cohen has been playing his self-described "beeps and boops" since he first acquired a Buchla Music Easel in 1976, one of only 25 ever manufactured. He remains committed to exploring its unique qualities. An avid collaborator, Charles Cohen may be well known to The Gatherings Concert Series community through his early work with Jeff Cain and their duo The Ghostwriters

During the era of the 1980s Charles Cohen and The Ghostwriters were among a handful of people playing out with synthesizers. Attending a concert of Electronic Music locally was a very significant event for the adveturous listener.

In addition to their live credits The Ghostwriters had two vinyl releases on a local independent label, Music for No Man's Land (1980) and Objects in Mirrors are Closer Than They Appear (1981) - which was an advanced achievement for this time. Along with a few other area groups, Charles Cohen and The Ghostwriters helped set the stage for the present state of Electronic/Innovative music in the Philadelphia region.

Charles Cohen is a very versitile musician and prolific live performer. Following a path to the edge of music and sound, his experiments in music of indefinite pitch (noise music) has led him to many new artistic realizations and expressions.

Cohen's appearances at The Gatherings Concert Series have been the perfect circumstance for him to re-visit an earlier musical state, now informed by years of creating music outside of it. With this concert there will be the unique opportunity for listeners to examine Cohen's work in the context of a more harmonious and consonant electronic realization.

Ombient: Music with Space radio show host and multi-instrumentalist Mike Hunter uses the name Ombient to make live music befitting of any situation. During his many concert outings he has realized a range of performances - from those of great portent down to the more ethereal and diffuse.

Possessed by a unique atmospheric sensitivity he is currently exploring the sonic territory of Spacemusic's 1970s Berlin-School - utilizing a number of classic electronic instruments, among them a substantial three cabinet "Synthesizers Dot Com" modular system.

Ombient will be joined on-stage at The Gatherings Concert Series by fellow Electronic Musician Chuck van Zyl.