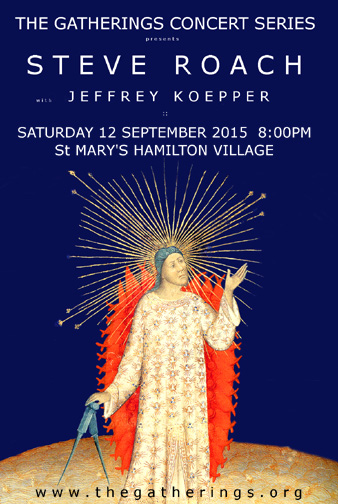 STEVE ROACH with JEFFREY KOEPPER
Saturday, September 12, 2015.

Steve Roach: Drawing on the beauty and power of the Earth, Steve Roach creates lush, meditative soundscapes. An explorer in contemporary Electronic Music, he is a leading innovator in the atmospheric/tribal/ambient world. With the early ground breaking titles Structures From Silence and Dreamtime Return at the foundation of his work, he continues to deliver quality music. With each new realization, he grows more engaging and mesmerizing.

Steve Roach's music relates more to doctrines of technology than to those of religion, yet effectively preaches about mankind's place in the cosmos. His sonic constructions rely on forms that pull the listener into a zone beyond three-dimensional space. Producing harmonic journeys without the usual conclusion, Roach realizes that the essence of Spacemusic is not to provide a solid narrative or sharp focus, but to stimulate the mind of the listener - into inevitably contemplating the mysteries of The Universe.

To realize his expansive and spacious work Roach must study how to fit together individual sonic elements to form a compelling whole. A cosmic slow dance of tones, his ethereal works rise and recede simply and eloquently in long lines of diverging synthesizer pads. Softly sounding through the silent night, Roach constructs a different kind of world.

Issuing cool notes as if in a round silvery beam, this music is warm and diffuse along the edges, but pinpoint clear at the center. The curving contours easily engage us as Roach combines aspects of repetition taken from minimalist music with the emotion, atmosphere and texture of New Age, and comes up with a most intriguing form of true Ambient Music. It turns out to be a timeless combination - demonstrating that a whisper may have more power than a loud voice.

n a tender sonic montage, leading the listener quietly into contemplation, these pieces move toward a restrained, poetic minimalism. In his music Roach portrays himself as the man in the labyrinth, not lost in a maze, but rather on a journey of discovery - charting the inner map of knowing. Emitting a range of moods from the night side of twilight, strong rolling bass tones surge beneath the slow motion breathing of chordal gestures, as resonant melodies hide in huge vaporous spheres of sound.

In measured breaths, deep electronic sighs are gradually introduced. Distinctive sounds occupy the air, rolling out then slowly folding back in on themselves. Rushing together, synthetic forms compose a still subtle space. These restless meditations shape sound into musical textures whose qualities combine and separate in fascinating ways. From smooth and swirling to tempestuous and dark, the condition reached is that of sustained calm and wonder. This music is used to go inward, to meet one's self - then return outside where everything is different, but nothing has changed.

In confronting his meticulously crafted soundworlds, in its ever-evolving kinetic effect Roach finds that his sequencer music is part of tomorrow's music masquerading as yesterday's rage. Pulsing notes and grooves give rhythm to the surface of the sound - propelling the listener endlessly through a trackless void. Cycling in lock step against a trail of echoes, machine-like synchronized sequencer runs gain momentum in dreamy tonal interplay.

The ever-evolving motion of complex looping patterns slipping in and out of phase reveals Roach's master manipulation over the pulse of the music and the subtleties of mood. Becoming lost in his circuits of grooving beats is easy and desirable. Dancing arpeggio notes, resonant analogue tones and interlocking percussion accents surge out of breathing synthesizer swells. Soft percussive chiffs and purple electronic bleeps echo out across vividly imagined distances, while deeply breathing chords stack up and sustain.

Steve Roach has become well versed in the analog style step sequencer - and its seemingly endless facility for composition, repetition and variation. Listeners become entranced through the crisscrossing of fractured rhythms and fluttering blips, enthralled at the interplay of complex layering and multifaceted undulations, and entangled in the kaleidoscopic mutations of the music's motoric ticking and timing. The beauty of this work comes from its many strands, heard individually and comprehended collectively.

Jeffrey Koepper: Jeffrey Koepper's internal wiring seems at odds with modern times. In a culture where the ringtone passes for art and music is frozen and compressed into ninety-nine cent sound files Koepper's expressive use of electronic music equipment boldly aligns with the mechanisms of the mind rather than mere fleeting trends. His precisely programmed swirling Spacemusic seduces listeners into a kaleidoscopic inner-sanctum where time is suspended and the outside world fades away.

His CD releases have been realized using a wonderful set of musical colors made on vintage analog gear - a process of going back to go further. The rounded tones of synth lead lines hover and float above ever-changing sequencer territory. With the structural divisions less clear-cut his interconnected pieces progress through a mindscape of phase-shifted pads, windy white noise sweeps and contrapuntal fantasies of mechanistic synchronization. Koepper's echoing tone patterns capture the kinetic energy of traveling through space - this music without sharp dramatic climaxes is all about the journey. Koepper is excited by all that is going on in his music, and its features that seem to point far into the future.