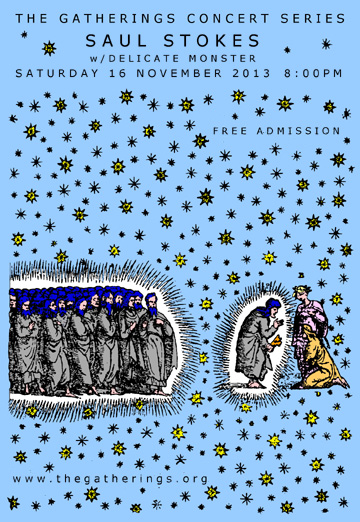 SAUL STOKES plus DELICATE MONSTER
November 16

On Saturday, November 16, at 8:00 pm, The Gatherings Concert Series will present two acts: Saul Stokes plus Delicate Monster.

SAUL STOKES: Performing with custom designed, hand-built synthesizers and modern sampling technology, Saul Stokes creates sonic landscapes somewhere between the floating textures of Vintage Spacemusic and the focused rhythms of Modern Ambient. With several critically acclaimed albums to his credit and represented on a number of prestigious compilations, Saul Stokes is recognized as one of the leading voices in modern Electronic Music. Described as "fresh and inventive," Stokes brings together elements of Space, Ambient, Industrial and Intelligent-Techno to forge a sound all his own. An avid concert performer, Stokes' performances often begin at a point of reference familiar to most and gradually lead the audience far out into the sonic universe. The immediacy of the live setting brings out Stokes' talent for creating floating spacemusic. Using unique, self-designed and constructed electronic instruments, Stokes effortlessly conjures up completely improvised electronic soundscapes. Stokes takes an unconventional approach to music. Every sound at his concerts come from electronic instruments built by Stokes himself. This unique palette of sounds and Stokes' individual vision results in music that is refreshingly original.

DELICATE MONSTER: Playing together on and off for 20 years, Art Cohen and Steve Bowman merge their stylistic differences into a kinky musical language that is Delicate Monster. Audiences share in the musical adventure as they reach for the ultimate agreement - the magical space where two prepared and practiced musicians connect in musical conversation. Delicate Monster leads the listener through the paradoxes of musical language, from the delicate (open modal harmonies, tuneful melodies, precious sounds) to the monstrous (dissonance, brute cacophony, noise). Art Cohen is rooted in psychedelic guitar, Berlin-school spacemusic, and American folk. He has been a fixture on the Philly music scene for 30 years - and known to many as one half of The Ministry of Inside Things (with Chuck van Zyl). Steve Bowman has a degree in Music from Harvard and draws inspiration from classical music and radical composers like Ives, Stockhausen, Bach, Palestrina, and Ligeti. Cohen pushes Bowman to create music that is clear and simple, to groove on repetition for its own sake - while Bowman pushes Cohen to surrender to his weird side and luxuriate in complexity and dissonance.