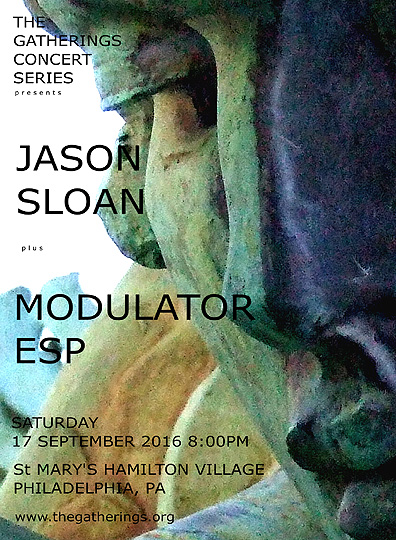 JASON SLOAN - MODULATOR ESP
Saturday, September 17, 2016.

MODULATOR ESP: Prolific UK synthesist Jez Creek records and performs under the name Modulator ESP. Producing improvised experimental soundscapes using synthesizers, sampling, sequencing, looping and processing to create strange worlds of sound somewhere between '70s Spacemusic, noise and dark ambient drone the music of Modulator ESP travels to the furthest reaches of sound and art.

Modulator ESP is the union of two crucial ideas which arose from the western world's 1970s new music scenes - the direct expressiveness of free-form improvisation, and the singing electricity of technology. Acting upon this untamed art, in his unassimilated underground, is UK synthesist Jez Creek. His music wanders from its point of origin within Creek's gear, to its terminus in the listener's fleeting moment of experience.

Completely unburdened by temporal continuity his concerts form a borderless dreamscape. Odd and weird, but fully organized, performances possess physical as well as aural characteristics. As time becomes space in the mind of the listener, Creek employs the portent sounds his synthesizers are capable of issuing, yet also releases energies of fragmentation and collapse. His work manages to capture the languorous ebb and flow of the cosmos in forms structured and strung together based on rhythm and instinct, rather than any overt narrative concerns.

Following his natural tendencies Creek's live shows establish an environment where sounds and ideas circulate freely, and where opposites meet. As fragments of sequencer patterns, expressionistic clusters of dissonance and impressionistic washes of sound create a state of volatility and flux, this tone color realm attempts to lift the audience into infinite spaces. From provinces of pure auditory activity, and opposing harmonic spheres, to scuttling arpeggio scales pulsing in nightflight circuits, Creek's lonely roads of exploration consistently produce a unique boundary-suspending feel.

Kidd's compositions move in languid slow motion. It is a rapturously beautiful journey largely led by exquisite string arrangements that alternately undulate, resonate, and soar over gentle piano and guitar led melodies and a menagerie of subtle and organic sound treatments, pedals, and effects. The music unfolds with the patient splendor of a blooming flower. Slow Meadow slowly infiltrates into the most intimate and vulnerable places in the mind and heart of the listener - the places within us where our memories, sadness, hope, and longing reside. The dynamics may be restrained, but the emotion is effusive and poignant and the music immaculate in the purity of its grace and sincerity.

With artists such as Stars of the Lid, A Winged Victory for the Sullen, Olafur Arnalds and Hammock, the ethereal music world has become immersed in ambient chamber music. Slow Meadow may be compared in quality and effect to that of its predecessors. Due to its expansive promise this style seems inexhaustible - as musicians and their listeners are constantly seeking more from it. Kidd's work is not just a distant observation - pushing rows of notes around a room in a conversation with the intellect. Fundamental in it is the idea that people are reachable, that beauty and music can make a difference.

If art is too clear, it is not very compelling - its vagueness adding to our sense of discovery. An act of free and brave thought, Modulator ESP conjures a particular atmosphere - a sonic setting we must apply meaning to. But, despite the logical rigor this music may seem to possess, it truly belongs to the world of spirits.

JASON SLOAN: Exploring sound, texture and atmosphere, the music of Jason Sloan is often smooth and spacious. It opens up and fills ambient areas with the slow motion of sustaining chords and a gradual metamorphosis of timbre. By adding the elements of rhythm and melody, his works provide a surprisingly deeper examination of the interior landscape. With layers of reverberant e-bow guitar over sampled percussion loops or cloud-soft synth pads churning alongside digital-age beats, Sloan's musical ideas posses a shimmering exuberance. Sparking then smoldering, his music plays out across an ever-changing landscape - and deserves praise for aiming so high.

The music of Jason Sloan moves somewhere through the world, but by no means shows any attachment to it. Gesturing toward profound themes his realizations are a premonition of a coming darkness - a retreat from its mounting inundation.

In beautifully calibrated performances Sloan manages a slow acceleration. His concerts arouse in us a theater of the mind - generated by the machinery of the brain. Disassembled forms are charged with electronic expression, and slowly shift in a haze of hovering tones. Ethereal synthesized melodies gradually move the listener into a pensive space, while crackling short wave radio clips faintly emanate from some hidden realm. The occasional appearance of soft rustling rhythms provides a rather muted, twilit, dusky feel - elegantly simple, yet lit with a benign foreboding.

In contrast to the luminous flow of spacey synthesized voice and string beds Sloan adds well-placed notes of delicate digital distortion into the mix at unpredictable intervals. These raw-nerve sounds connect Sloan to the moment as the whirlwind of his live music expands and recedes.

If time has a shape the emanations produced by this artist represent its vague contour. Traveling into the gray sphere of 21st century life Sloan's work resolves in a lessening of tension - telling us that the future is all around us... waiting to be shaped.